Why Being a 'Sister' is Important
There's a feeling that marinates in the pit of our stomachs and simmers to the bottom of hearts every time we accomplish a goal and see our sisters cheering us on from the sidelines.
And in sisters, we're not talking biologically created.
We're talking commonality and like-mindedness that birth an unspoken bond between women all over the world that's bigger than a simple camaraderie between adults.
It's that spiritual "knowing" that she understands me or that she feels exactly where it is I'm coming from. Or that she's going through that? I've been through that too. Or, she's shooting for that goal? Wow, I'd like to accomplish that too.
Those are our sisters and truth is, we don't cheer them on enough. In the world of media, our sisterhood—though everlasting—is weak.
But before we exhale and take steps towards turning this thing around, let's highlight a few sister empowerment moments we've seen setting an example in 2015:
Amy Schumer giving credit to her comedienne peers, Tina Fey & Amy Poehler:
A successful comedian and actress cheering on who some might see as her    "competitors," given the clear disparity in their field? We were sooooo here for this.
Novelist and powerhouse, J.K. Rowling, proudly showing her support for Selena Williams after many ignorant people tried shaming her body image during the 2015 Wimbledon finals: 
And when J.K. Rowling speaks, I think it's an unspoken rule that we all listen.
Actress, Viola Davis, dedicating her entire Emmy acceptance speech to fellow black actresses…and other working women in media publicly supporting her: 
Davis' speech left us all speechless while giving us a sense of hope, love and true   sisterhood.
Former Moesha co-stars, Brandy and Countess Vaughn make amends after Vaughn publicly apologizes:
Is it too late now to say, sorryyy? All jokes aside, this moment warmed all of our hearts. It's never too late to start anew.
Now that we're all feeling inspired, here are five ways we can all cheer on our fellow sisters:
Recognize: It's easy to forget the rocky journey some of our sisters may have had once they reach a certain pinnacle of success. It's important to recognize that no two journeys are alike and that we all have to overcome a number of obstacles to achieve our goals. Instead of coveting, try reaching out for tips, advice or inspiration.
Acknowledge: Sometimes it's not just the big people in the limelight that need our encouragement, but the little people behind the scenes, around the corner, down the street and right next to us as well. In this day and age, young women are faced with a multitude of obstacles, including having confidence in themselves. If we take the time to acknowledge the good our sisters are doing right next to us, we may inspire them to do more and eventually create something that's bigger than themselves.
Support: There's no one way to do this and it's important to note that the little things count too. That retweet or the "congrats" comment you were thinking about writing on the photo of the "girl you never speak to," matters. Show your support. The universe will notice.
Tune out negativity: It goes without saying that the company you keep has a big influence over many aspects of your life, including opportunities. While it's important to surround yourself with positive people, it's equally as important to distance yourself from negative people, things and media that may influence you to not support a fellow sister.
Be great yourself: By working hard and doing everything that you can to shine your own light, you won't feel the need to shade someone else's. As Bindu, an Indian actress popular in the 70's said, "Women who understand how powerful they are do not give into envy over meaningless things, instead they fight to maintain the beautiful bond of the sisterhood."
For the upcoming New Year, we challenge you all to spread love and support a sister next to you. Our younger sisters are watching.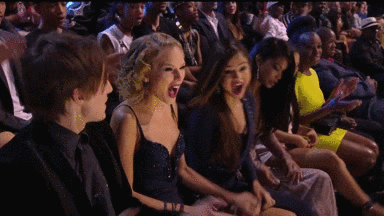 Now signing off with the reminder: Don't wait for the world to recognize your greatness, live it and let the world catch up to you.