Why Being a 'Sister' is Important
There's a feeling that marinates in the pit of our stomachs and simmers to the bottom of hearts every time we accomplish a goal and see our sisters cheering us on from the sidelines.
And in sisters, we're not talking biologically created.
We're talking commonality and like-mindedness that birth an unspoken bond between women all over the world that's bigger than a simple camaraderie between adults.
It's that spiritual "knowing" that she understands me or that she feels exactly where it is I'm coming from. Or that she's going through that? I've been through that too. Or, she's shooting for that goal? Wow, I'd like to accomplish that too.
Those are our sisters and truth is, we don't cheer them on enough. In the world of media, our sisterhood—though everlasting—is weak.
But before we exhale and take steps towards turning this thing around, let's highlight a few sister empowerment moments we've seen setting an example in 2015:
Amy Schumer giving credit to her comedienne peers, Tina Fey & Amy Poehler:
A successful comedian and actress cheering on who some might see as her    "competitors," given the clear disparity in their field? We were sooooo here for this.
Novelist and powerhouse, J.K. Rowling, proudly showing her support for Selena Williams after many ignorant people tried shaming her body image during the 2015 Wimbledon finals: 
And when J.K. Rowling speaks, I think it's an unspoken rule that we all listen.
Actress, Viola Davis, dedicating her entire Emmy acceptance speech to fellow black actresses…and other working women in media publicly supporting her: 
Davis' speech left us all speechless while giving us a sense of hope, love and true   sisterhood.
Former Moesha co-stars, Brandy and Countess Vaughn make amends after Vaughn publicly apologizes:
Is it too late now to say, sorryyy? All jokes aside, this moment warmed all of our hearts. It's never too late to start anew.
Now that we're all feeling inspired, here are five ways we can all cheer on our fellow sisters:
Recognize: It's easy to forget the rocky journey some of our sisters may have had once they reach a certain pinnacle of success. It's important to recognize that no two journeys are alike and that we all have to overcome a number of obstacles to achieve our goals. Instead of coveting, try reaching out for tips, advice or inspiration.
Acknowledge: Sometimes it's not just the big people in the limelight that need our encouragement, but the little people behind the scenes, around the corner, down the street and right next to us as well. In this day and age, young women are faced with a multitude of obstacles, including having confidence in themselves. If we take the time to acknowledge the good our sisters are doing right next to us, we may inspire them to do more and eventually create something that's bigger than themselves.
Support: There's no one way to do this and it's important to note that the little things count too. That retweet or the "congrats" comment you were thinking about writing on the photo of the "girl you never speak to," matters. Show your support. The universe will notice.
Tune out negativity: It goes without saying that the company you keep has a big influence over many aspects of your life, including opportunities. While it's important to surround yourself with positive people, it's equally as important to distance yourself from negative people, things and media that may influence you to not support a fellow sister.
Be great yourself: By working hard and doing everything that you can to shine your own light, you won't feel the need to shade someone else's. As Bindu, an Indian actress popular in the 70's said, "Women who understand how powerful they are do not give into envy over meaningless things, instead they fight to maintain the beautiful bond of the sisterhood."
For the upcoming New Year, we challenge you all to spread love and support a sister next to you. Our younger sisters are watching.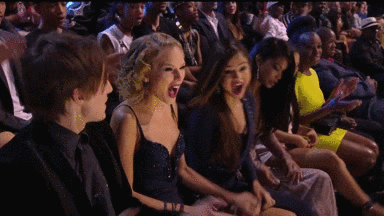 Now signing off with the reminder: Don't wait for the world to recognize your greatness, live it and let the world catch up to you.
Drake Releases Most Important Project of His Career
Today Drake released the visual for his song, "God's Plan". In this video, it showcases Drake giving back to communities, schools & even families in more ways than one. Whether it was signing checks for scholarships, paying for grocery bills or just handing stacks of cash to families, the 6 God decided to use the million dollar budget given for the video to instead, give it all away. 
It's empowering to see celebrities use their platforms for good and to give back to those in need.
Drake, in case no one has told you yet – you're doing amazing sweetie.
'The Real' Surprises Staff Member at Community Academy of Philadelphia
Jeannie Mai, co-host from The Real took over Philadelphia to surprise a special staff member from the Community Academy of Philadelphia Charter School. The Assistant Operations Manager, Vilma Ray (also known to everyone as grandmom Ray) has dedicated over 16 years of her life serving the children and staff at Community Academy. She's held multiple jobs for the school, to name a few – she's driven the bus, mowed the lawns, cleaned up after students, supervised discipline room and the federal lunch program. Regardless of whatever the job was, big or small – she's said to have completed each task with a smile on her face.
"Momma Ray is a miracle worker" – Alberta O'Brien, High School Principal.
 
Everyone that comes into grandmom's Ray life, she is known to impact them in an empowering way. When needed, she is always a ray of sunshine and the backbone for everyone. It is because of this, Jeannie Mai came to the school to surprise and honor grandmom Ray for her years of service and commitment. Grandmom Ray originally thought she was randomly selected to play their infamous "Dimestore to Deluxe" game but little did she know there was a huge surprise for her at the end. Check out the segment of #TheRealOnTheRoad Philadelphia below:
Why Being Kind is Too Much Sauce
You're probably already aware that your smile could change someone's day. We hear it all of the time: Smile. Be kind. Be courteous. Use manners.  But would you believe it if I told you that your smile could change someone's life?
It can. Because it's not just the smile, it's also what comes with it. The confidence, the happiness, the positive vibes and energy that are released into world that may translate to a silent affirmation for someone else.
Smile, because you never know who's watching feeding off of you. It's a small act of kindness with a big impact on both the giver and the receiver.
And when it comes to small acts of kindness, too often we underestimate the power of them.
When you do things that aren't required of you in hopes of helping or uplifting a person you know nothing about, not only does it become infectious, but the world finds a way to bring that goodness back around to you.
When Florida State University football player, Travis Rudolph, recently ate lunch with Bo Paske, an autistic boy who sat alone in the cafeteria, he could not have fathomed the national attention that small act of his was about to garner.
Not only did he help to bring more awareness to the autistic community, but he changed the lives of both Bo and his mother, and caught the attention of the media and sports community that will only prove to be beneficial to his career.
And all of this sparked from a picture he didn't even know was being taken.
Again, you never know who's watching you.
The powerful possibilities that come with randomly doing something nice for people are endless and rewarding. You could simply change their day by lifting their spirits or you could change their way of thinking about both the world and others.
Not only are acts of kindness significant, but they're really easy to practice. Here are five ways you can be kind to someone today:
Hand write a thank you note: handwritten anything is becoming so rare that taking the time to do so in the form of a thank you note will be sure to linger in the mind of the receiver.
Support a dream or positive venture: You see it on your Facebook or Twitter timeline all of the time. Someone asking you to "like" their new business page or fill out a brief survey for their new idea. How long does it really take to do something like this? Do it.
Compliment someone: You never know the kind of day someone is having. Write a compliment on your waiter or cashier's receipt. Tell your coworker how great they are at their job. Tell the person on the train next to you how much you love their hair.
Tell someone you appreciate them: It's so easy to go on about our days expecting to receive certain things from certain people. Whether that's money from mom or an invitation from your friend, tell that person you appreciate them for playing a positive role in your life.
Smile: Like Nike, just do it.